Quarrel

Name:
Quarrel
Eye colour:
Grey
Hair colour:
Black
Died:
15 March, 1956
Affiliation:
MI6
Nationality:
Cayman Islander
Occupation:
Fisherman
First appearance:
Live and Let Die
Last appearance:
Dr. No
Quarrel is a Caribbean fisherman and a trusted friend and ally to James Bond. He helps Bond on two of his assignments in Jamaica.
Live and Let DieEdit
Quarrel is a Cayman Islander who first appears when John Strangways, chief of the Secret Service's Caribbean station, hires him to serve as Bond's physical trainer and local guide as Bond prepares for his mission against Mr. Big. Bond and Quarrel immediately develop a strong friendship.
Quarrel later appears during Bond's search for Dr. No. Again training Bond in the same fitness regimes as before. Quarrel answers many of Bond's basic questions about Strangways' disappearance and takes him to a restaurant owned by Pus-Feller, a friend of his. That night, at the restaurant, Bond has Quarrel retrieve a photographer who took a photo of him at the airport that morning. She cuts Quarrel's face before being handed over to the authorities.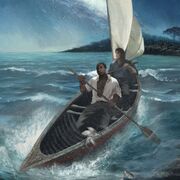 The next day, Bond asks him to boat him to Crab Key. Quarrel is initially frightened due to stories of fishermen disappearing in the area and folklore of a dragon, but ultimately agrees. Upon arriving on the island, the pair notice another boat there.
Later, he, Bond, and Honey Ryder hide from Dr. No's security team and quickly flee. At night, they come across the "dragon": a marsh buggy, equipped and painted to look like a dragon with a flamethrower mounted on the front. Quarrel and Bond attempt to outmaneuver the contraption, but the dragon gets too close and Quarrel is burnt to death.