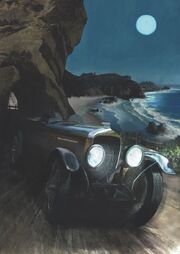 The Bentley 4½ Litre was a British sports car built by Bentley Motors. Ian Fleming's creation, James Bond, drives a 1930 Blower Bentley in three of his Bond Novels, Casino Royale, Live and Let Die and Moonraker.[1]
Bond drives one of the last Blower Bentleys built, a battleship grey Convertible Coupé, with French Marchal headlamps. In Casino Royale Fleming writes that Bond bought the car "almost new" in 1933 and had it carefully stored during the war. In Fleming's second novel, Live and Let Die, he erroneously states that the car is a 1933 model.
However, in November 1931, production of the vehicle ceased. Realizing this, he went on to correct this error in Moonraker, describing it as a 1930 4½ Litre with the Amherst-Villiers supercharger. [2]
As the Bentley belongs to Bond rather than Q Branch, no gadgets were installed as this was Bond's private vehicle that in Casino Royale is mentioned as being a hobby that Bond enjoys working on. Its only armament however, is a high power revolver Bond keeps in the glove compartment. The Bentley 4½ Litre was destroyed during his chase of Hugo Drax in Moonraker.
References
Edit
↑ de Geyer d'Orth, Niels (30 October 2008). Un demi-siècle de James Bond cars. Autonews. Retrieved on 18 August 2010.
↑ Griswold, John (2006). Ian Fleming's James Bond: Annotations And Chronologies for Ian Fleming's Bond Stories. AuthorHouse, p.83. ISBN 978 1 4259 3100 1.