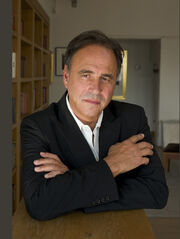 Anthony Horowitz, OBE (born 5 April 1955) is an English novelist and screenwriter specialising in mystery and suspense. His work for young adult readers includes The Diamond Brothers series, the Alex Rider series, and The Power of Five series. His work for adults includes the novel and play Mindgame (2001), and two Sherlock Holmes novels The House of Silk (2011) and Moriarty (2014). He is the most recent author chosen to write a James Bond novel by the Ian Fleming estate, titled Trigger Mortis (2015).
He has also written for television, contributing scripts to ITV's Agatha Christie's Poirot and Midsomer Murders. He was the creator and writer of the ITV series Foyle's War, Collision and Injustice.
James Bond
Edit
Trigger Mortis was announced in October 2014. It contained previously unpublished material written by Fleming for an unfilmed television series, Murder on Wheels, which Horowitz has used to write the opening chapters. The book title was revealed on 28 May 2015 to coincide with Fleming's 107th birthday.
In the 1950s, Ian Fleming wrote several episode treatments for an ultimately unmade James Bond television series. The material, was an episode treatment for it. "It's a huge challenge... but having original, unpublished material by Fleming has been an inspiration." said Horowitz. Horowitz said Fleming's hero had had "a profound influence" on his life adding: "This is a book I had to write." "When the estate approached me to write a new James Bond novel how could I possibly refuse?" said the 59-year-old, who was made an OBE in the New Year Honours.[1]
Several of the plots turned into the short stories that are now in the collections For Your Eyes Only and Octopussy and The Living Daylights. There are still several plot outlines which Fleming never adapted and which, until now, have not been published. "Given that Anthony is as brilliant a screenwriter as he is a novelist, we thought it would be exciting to see what he would do with one of them." said Jessie Grimond, Fleming's great-niece.[2]
After a positive reaction to Trigger Mortis, Horowitz has been announced as writing a second Bond novel (also with material from Fleming) which will be released in 2018.[3] He is the third continuation author to write more than one entry in the James Bond series after John Gardner and Raymond Benson.
References
Edit
↑ "Anthony Horowitz to Write the New James Bond Novel", Ian Fleming Publications, 4 October 2016. Retrieved on 5 January 2017.

 
Ad blocker interference detected!
Wikia is a free-to-use site that makes money from advertising. We have a modified experience for viewers using ad blockers

Wikia is not accessible if you've made further modifications. Remove the custom ad blocker rule(s) and the page will load as expected.